Sports Streaming
Be it a primetime game or occasional sports commentary shows from local, national or international networks, sports streaming subscribers can access it all with more choice and control than cable subscribers. Thanks to striking innovations in-technology, sports streaming services allow their subscribers to witness their favorite sports while it is happening with a world of features.
The never before convenience, experience of real-time engagement, low or no commitment, device and location independency are making sports streaming subscriptions a value for money investment. Read on as we discuss various aspects of sports streaming and their subscription services. Also, if you are looking for a state of the art subscription platform that can seamlessly manage all your sports streaming subscription without a fail, we have a surprise further down the article. Read on!
Content of the article –
What is subscription for sports
Background content
Reasons for the popularity of sports streaming
Benefits of live streaming of sports
Challenges of sports streaming subscriptions
Top sports streaming services
Better software for managing sports streaming
Faq – is there a subscription service for sports?
What is subscription for sports?
If you are new to the term 'sports streaming', here's what it means. Sports streaming allow viewers (such as registered subscribers) to watch their favourite sports without needing a cable subscription. Viewers can watch their games as it happens without having to be physically present at the stadiums. All they need is an active internet connection to connect with the streaming service, a hand-held device such as smartphone to view their content and an active (often paying) subscription service that will provide the streaming service for you.
Background content
Traditional televised sports using expensive cable networks are seeing heightened competition from their streaming counterparts. Since a majority of video views are start using a mobile device, it goes without saying that OTT platforms showing sports streaming services are gaining grounds. The pandemic has increased people's dependency on the Internet and smartphones and the availability of useful features in them attract new fans and retain existing ones. Simply put, sports streaming services are on the rise and with time, the popularity is only going to scale further.
Reasons for the popularity of sports streaming
Sports steaming services provide a number of beneficial features making them obviously a better option over cable networks for live sports streaming. Streaming services provide various striking benefits to their subscribers, some of which may include the following. Not all of them may have all these options bundled together. In other words, features available may vary from one service provider to another.
Broad library of on-demand sports content from local, national and international networks
Flexible pricing tiers
Live sports for paid subscribers
Support for multiple account profiles
Attractive lineup of sports content with commentary, historical analysis, live streaming, and more
User friendly interface
Excellent original content
4K and HDR streaming
Support for offline downloads, audio descriptions and more
Parental control features
High-quality archives
Benefits of live streaming of sports
Exposure and scaling – Sports streaming take sports beyond boundaries. A sport with traditionally a fewer number of audiences suddenly becomes accessible to global audiences without barriers. Anyone can watch a sport in its live streaming version from anywhere using any compatible device. 
Next level fan engagement – Another crucial benefit of sports streaming is the real-time engagement from fans who share common values and emotions. It contributes to the growth of a sport, the clubs and players involved and the sport continue to gain new grounds it did not knw existed previously. 
New opportunities to generate revenue – Live streaming content are made possible using sponsorship and paid advertisements. A sponsor can gain massive exposure while targeting the right customers at the right time. 
More control – Subscribers can view their favorite sports from anywhere. They can choose from a range of features to take their sports viewing experience to the next level. They can cancel their subscription anytime and renew it later if needed. 
Challenges of sports streaming subscriptions
Sports streaming services must be reliable and consistent. Some players may have huge fan base and their availability may create surprising spike in traffic. The streaming services must handle the surge reliably without interrupting the services. 
Some sports may take place at different places which calls for a centralized system to efficiently cover them. Changes in weather and consistency in the Internet connection is another thing to ensure sports streaming remains reliable.
Subscriptions for sports streaming must be affordable too. Spike in subscription fee could result in accounts not renewed yearly. On the other hand, no streaming services could afford to make free plans too lucrative in order to stay in the industry.
All these challenges and more need to be addressed efficiently to provide a seamless, and rewarding streaming experience to subscribers.
Top sports streaming services
Some of the top sports steaming services include the following, inspired from the list of top 10 picks from PCMAG
Hullu
Peacock
Youtube TV
Amazon Prime Video
Fublo TV
Dazn
DirectTV Stream
ESPN+
Paramanount+
Sling TV
You can also conduct a search on Google or Yahoo with the keyword 'top sports streaming services' and this should fetch relevant results populated with the best streaming services.
Better software for managing sports streaming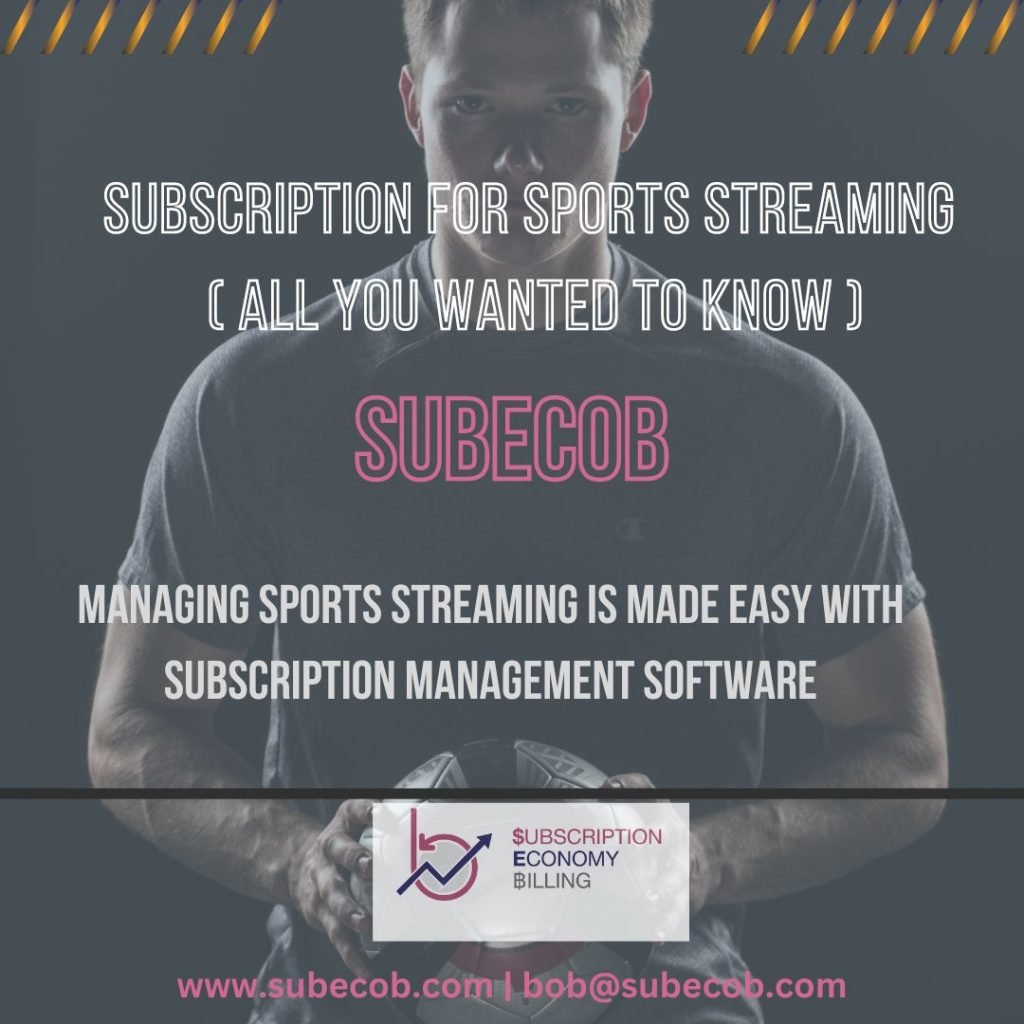 Managing sports steaming is made easy with subscription management software like Subecob. It helps you manage and optimize your subscription business with better control and visibility. It lets you focus on your business while it does everything else for you. In other words, you can automate everything in as few clicks as possible.
Schedule a free discovery call with us today to explore what all we can do for you.
FAQs – Sports streaming subscriptions
What is subscription for sports streaming?
Sports streaming allow viewers to watch their favorite sports without needing a cable subscription. Viewers can watch their games as it happens without having to be physically present at the stadiums.
What are top subscription for sports streaming services?
According to a report, top sports streaming services of 2022 are Hullu, Peacock, Youtube TV, Amazon Prime Video, Fublo TV, Dazn, DirectTV Stream, ESPN+, Paramanount+, Sling TV
What are the benefits of sports streaming?
Exposure and scaling, improved fan engagement, new revenue generation opportunities and better control make sports streaming very attractive for subscribers.
How to subscribe to a sports streaming service provider using a mobile device? 
Choose a favorite sports streaming service provider by signing up for them using a mobile device. Choose your plan and start watching. Upgrade or downgrade your account if needed.