Business survival has become more customer-centric these days. Organizations are offering anything and everything as a Service and on Subscription. Customers are also increasingly adopting such business offerings and are happily enjoining services and products. A subscription business model, in which customers subscribe to a service/product, commit to paying a recurring fee at regular intervals, is attractive in several aspects for both customer and business.
There is an increasing demand for many services/products offered on Subscription. We have witnessed many startups, business houses, SBUs that have launched services and products on subscription.  While the core service offering is on the business portal, there are several challenges these organizations are facing to manage the multifold subscriber's profile management, charging per usage, customer-centric packaging and pricing, etc. . Which could possibly help a business navigate those challenges? As a Subscription business do I need a Subscription Management and Billing system for my Subscription Business, let us take a look!
Content of the blog –
The pros of a subscription model
Subscription model challenges vs. subscription management and billing system
More challenges defined
Software to get started
The pros of a subscription model
Recurring billing fetches predictable revenue, it increases return on customer acquisition costs, allows customers to make frictionless payments, and best of all, provides a winning situation for all stakeholders – to you as a business and to your customers, who keep your business alive.
What With or Without Subscription Management and Billing Solution?
Mostly Subscription Business manages their subscriber details, charging, and customer support through their service portal / manually / xls sheets, accounting system, etc, etc. They run the show till they realize that either its beyond their control to handle or automate the whole subscriber journey or gear up for massive business growth. In this phase, they realize the need for a Subscription Management and Billing Solution. Although a subscription model is populated with possibilities, it still faces a series of challenges. Without overcoming them, a business can not scale up, let alone make a long-standing impact.  In this part of the blog, we will talk about them, and how subscription management and billing software can be the most viable solution to tackle them.
Hours of devoted effort conducting and following-up on subscription tasks
The strength of a powerful subscription management business model is built on how efficiently it has been formulated and implemented. Several essential tasks are part of it, including the need to send invoices to business customers on a regular basis. Now imagine the countless hours of time and overtime needed to compile verified reports, before sending an invoice to everyone without making delays.
Subscription management and billing software are programmed to automatically send detailed invoices to customers so you do not need to. Simply integrate your model to a trusted subscription management and billing software system and it will do the tasks, saving hours of valued time and effort.
Increased costs setting up your own legacy system
Building your own native system to manage Subscription Management and billing can be overwhelming. On top of it, you may need to create and recreate specialized features to meet the evolving challenges.
Subscription management and billing system features are made to meet the challenges of a subscription business. Most of the features are configured or pre-built to meet your business demand. You do not need to hire a costly developer, in-house or remotely,  or divert your IT team's focus on building your own systems.
Increased concerns to keep online payment environment safe for global customers
The World Economic Forum considers cyberattacks as one of the top five risks to global stability. Subscription businesses that still use old, home-grown legacy software to manage their billing are exposed to severe security risks impacting their business and customers.
Top recurring Subscription Management and billing systems provide PCI-compliant privacy, processing payments in an encrypted and secured environment. It brings confidence, transparency and agility to the payment system and eliminates the risks of sensitive data from being lost and misused.
A subscription management and billing software eliminate this because one can choose from multiple payment gateways and seamlessly route transactions through a preferred gateway based on their needs. Given that fee, contract requirements etc differ from one region to another, having multiple options allows you to shift transactions to a gateway that offers the best features.
Interpreting data to improve business performance
Analyzing subscriber data is essential to making a company's financial health thrive. Key information like total number of new registrations daily, accurate analysis of revenue generated on a day-to-day basis, accounts that are still outstanding, new lead patterns, etc., need to be understood efficiently. Using spreadsheets and home-grown and outdated legacy systems to manage the data can lead to costly errors, misinterpretation of facts, duplicate entries, and eventually wrong business decisions. A subscription management and billing software efficiently gathers these data, curates them as needed, centralizes these reports, and makes them easily available – no matter the time and device.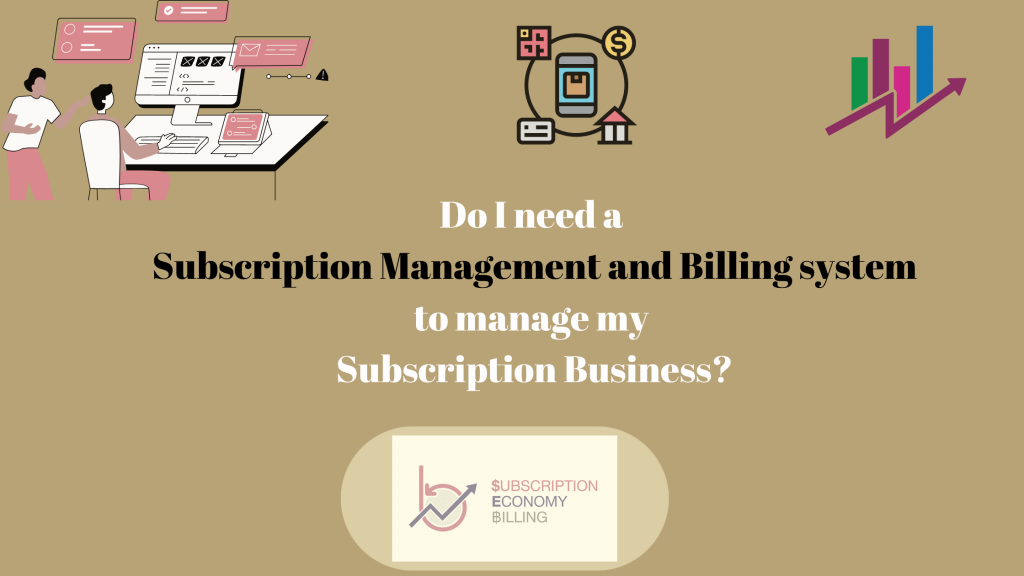 More challenges vs. a subscription management software
| | |
| --- | --- |
| Challenges of managing subscription business | How a subscription management software handles them |
| Different scenarios and dissimilar customer preferences | Configuration is available to address unique situations |
| The need to provide a consistent experience to customers – allowing them to switch between plans or pause plans instantly or charge accurately | Enables customers to upgrade, downgrade or pause plans at the click of a button and bill them on prorate basis – eliminating wait time and improving customer loyalty |
| Manual processing of subscriptions can lead to errors, costing business time, effort and money | Automate customer onboarding process to billing, customer support and retention. Streamlines everything, brings insights accuracy, and transparency across the value chain. |
| Integrating multiple systems to manage subscription and billing process | Quickly manage and handle unique business-critical systems into one – saving time and effort |
Subscription management and billing software empower a business to effectively manage its Subscription Business with a customer-centric approach.  supports good user experience, and takes the business to the next level – efficiently automating and managing recurring subscriptions. So, to answer the question "Do I need a subscription management and billing system to manage my subscription business," the answer is a resounding Yes.
Get Started with simple-to-use subscription management and billing solution with Subecob.
Subecob is a cloud-based and on-premises off-the-shelf Subscription Management and Billing solution that manages all aspects of a subscription business. Simplify anything you need – subscription business, Quote to order, Up-sell, Down-sell, Recurring Bill and revenue, Subscriber Life-cycle management, Analytics and Reporting from one single platform. Plan, create and launch your next big subscription business with Subecob. Get started now!